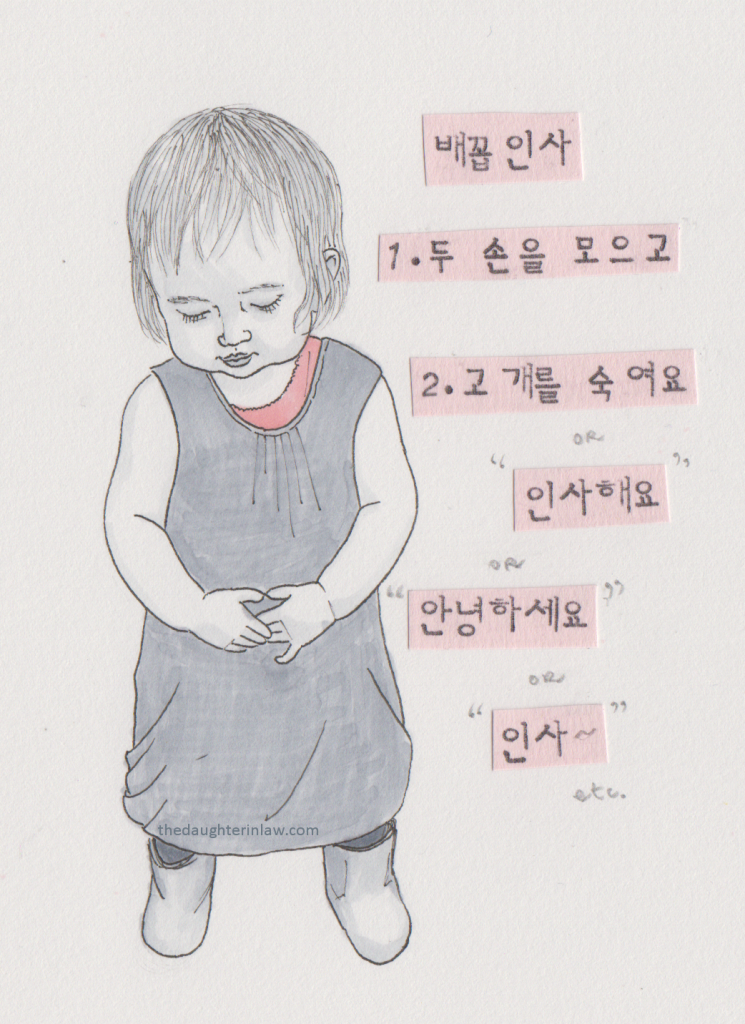 Since Alice is competent at bowing her head to greet and thank people, I recently taught her to "배꼽인사" (belly button bow)
I taught this in two stages. First I would gently hold her two hands together at her tummy, as I said "두 손을 모으세요" or "두 손을 모아" However you choose to say this, it becomes a cue for the action of placing one hand over the other at the waist. Then I would give her a familiar cue, which is "안녕하세요~" When she hears this, she already associates it with nodding her head once as a bow.
The second step was to increase the depth of the bow and preferably lengthen its duration. You can add an additional cue, "고개를 숙여요" or an appropriate greeting, such as "감사합니다" or "안녕히가세요." We used "인사~" and as I said the cue I would gently use my hand to push her body forward just above her bottom. Do not push too far or too fast, as this will throw the child off balance. Your hand should be really light and you should allow the baby to make whatever stability compensations he needs.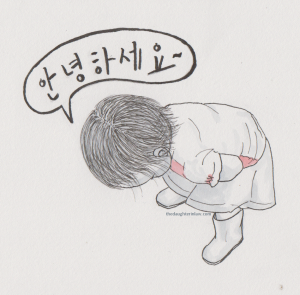 If you've never seen a toddler perform 배꼽인사 before, you may not know what sort of form to expect. Toddlers are very good at keeping their centre of balance slightly forward so they are more likely to fall forward, but if you push them too far forward, they stabilise themselves by bending their knees.
A toddler's correct 배꼽인사 "form" will most likely include deeply bent knees, wide parted feet and often an exaggerated depth of the bow itself (Alice's head almost touches the floor)
We practise this bow once or twice a day, very casually. Often when Han arrives home or leaves, so she can experience it in context. If you always start the practise with "배꼽인사 하자!" baby will become used to this as an overall cue and you will ultimately be able to drop the step by step cues quite quickly.
The most important thing is to be patient and realistic, a toddler should not be expected to always have perfect manners or to always 배꼽인사 on command. Give plenty of positive encouragement and feedback, but avoid pushing the issue when she refuses.